Aluminum Foil for Container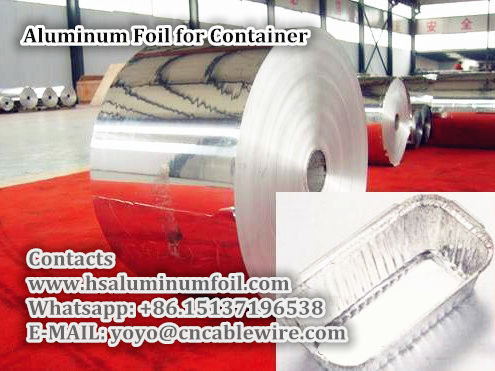 Thickness: 0.08-0 .12 mm
Width: According to customer requirements
Alloy: 8011 0 temper
Product Introduction

Aluminum foil for container with polyester coating is non-toxic, healthy and safety. FDA approved. Aluminum foil for container can be used for cooking at high temperature, so it is suitable for making lunchbox, food container, etc.
The container made of aluminum foil is recyclable, thus reducing pollution, saving resources. In the background that people pay more concern on environmental protection, the container is a good choice.  This container has developed rapidly in recent years, and many companies began to produce to seize the market. The future prospects of this container are unlimited.

Features

1. Aluminum foil for container is a kind of tasteless and non-toxic packing material which can be used in food.
2. Any bacteria or microorganisms cannot grow on the surface of aluminum foil for container .
3. The packaged food will not dry or shrink by its non-volatile feature.
4. The grease penetration will never happen on aluminum foil for container whether in high or low temperatures.
5. As an opaque packaging material, the sun ray irradiation products such as margarine can be packaged well by aluminum foil for container .
6. Aluminum foil for container has good plasticity, it can be used to packaging products in various shape and also can be used to create different container shapes.
7. Aluminum foil for container  has good hardness and strong tension strength, but it is easy to tear because of the small tear strength.
8. The aluminum foil for container can be only applied heat and seal by the heat materials such as PE on its surface.
9. The adverse reactions may caused by meeting with the other heavy metals.

Introduction of our company

Gongyi Shengzhou metal Products Co.,Ltd. is a professional Aluminium Coil Suppliers and Aluminum Circles manufacturers,mainly  supply Aluminum Circles, Aluminium discs, Aluminum Strip, Food Box Material Aluminum Foil, Aluminum Circles for Kitchenware etc. series of aluminum products, sincerely welcome everyone to visit.
 
Contact : Ph, Wechat, Whatsapp: +86.15137196538
Tel: +86.371.60266515