Foil Tape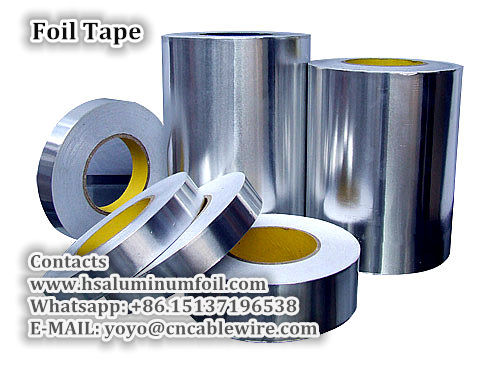 Foil Tape
introduction
Aluminum foil tape with high-quality pressure-sensitive adhesive, good viscosity, strong adhesion, anti-aging effect! Insulation performance greatly improved, specifications are (0.05mm-0.08mm) * various width and length.
Mechanical Properties of 1235 Alloy Annealed Products
Thickness




(mm)

Status

Mechanical properties

Pinhole number

Brush water experiment

Tensile strength




(Mpa)

Elongation

Pinhole diameter




(mm)

N

umber

0.012<0.02
0.H22
50~90
≥2.0
<0.3
5
Wetting tension> 35 dyne
0.021<0.04
50~90
≥2.5
<0.3
0
0.041<0.05
50~90
≥3.5
<0.3
0
 
H18
≥140
≥1.0
≥1.0
 
1.Mechanical performance requirements above the required requirements must be reviewed
2.Thickness greater than 0.03mm products for double-sided light products, special circumstances for contract review
Foil Tape

 Features
1.Aluminum foil tape surface clean, flat, not allowed to have corrosion, holes, brown oil spots, do not allow wrinkles and folding,aluminum foil surface allows doesn't affect the use of horizontal stripes, bright lines, color difference,etc.
2.Aluminum foil tape end should be neat, no dirt, impurities, etc. There is not allowed serious burr, strung layer, arrows, tower and bruised,etc.
3.Aluminum foil tape surface should be no oil, no smell, wetting tension is not less than 35 dyne. If the customer has special requirements in accordance with the implementation of customer standards.
4.Adhesion test: does not allow adhesion, aluminum foil roll can not be free to open the situation.
Introduction of our company
Gongyi Shengzhou metal Products Co.,Ltd. is a professional Aluminium Strip Suppliers and Aluminum Circles manufacturers,mainly supply Aluminum Circles, Aluminium discs, Aluminum Strip, Food Box Material Aluminum Foil, Aluminum Circles for Kitchenware etc. series of aluminum products, sincerely welcome everyone to visit.
Contact : Ph, Wechat, Whatsapp: +86.15137196538
Tel: +86.371.60266515