Cable Aluminum Foil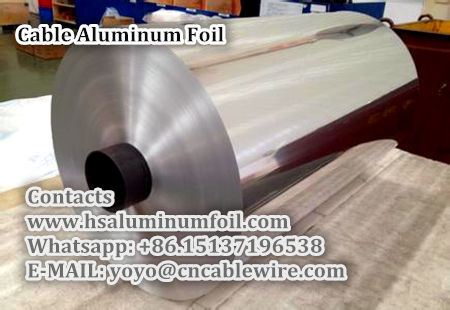 Product introduction
Cable aluminum foil is the use of aluminum foil sealing property and shielding property, single-sided or double coated with plastic film,the composition of the aluminum # plastic composite foil, used as a cable shield. Cable aluminum foil requires surface with less oil, no holes, with high mechanical properties, the overall quality requirements are not high, but the length requirements are extremely strict.
Features
1.Cable foil to ensure good shape, horizontal stripes, aluminum foil surface to allow a slight color difference, bright line, black wire and other does not affect the quality of the surface defects used by customers. It is forbidden to wrinkle, crimp and other defects.
2.The joints must be firmly bonded with ultrasonic or aluminum based adhesive tape and make a mark according to the contract requirements.
3.Aluminum foil is not allowed to appear adhesion, folding, tearing phenomenon when it expand, free expansion length is less than or equal to 1.5 meters.
4.End face quality without burr, string of layer, without become warped edge, turriform, sun pattern, arrow, bumps and other defects. Bottom part should be as little as possible, not over 5MM thick.
5.Brush water test is not less than A grade.
Introduction of our company
Gongyi Shengzhou metal Products Co.,Ltd. is a professional Aluminium Coil Suppliers and Aluminum Circles manufacturers,mainly  supply Aluminum Circles, Aluminium discs, Aluminum Strip, Food Box Material Aluminum Foil, Aluminum Circles for Kitchenware etc. series of aluminum products, sincerely welcome everyone to visit.
Contact : Ph, Wechat, Whatsapp: +86.15137196538
Tel: +86.371.60266515